Populære innlegg
Det er flere som har bedt oss om strikkeoppskrifter. Gratis strikkeoppskrifter er det visst vanskelig å finne på norsk (tips mottas med takk...

Det er ikke så mye som er direkte dødelig i norsk flora eller fauna. Vi husker fra vi var små og ble advart om at eika var giftig, men kan i...

Vi har blitt godt mottatt her i Odalen og på Knapper , og har tidligere blitt presentert i Glåmdalen . Nå har vi også fått en artikkel i Od...

Bloggarkiv

Blog Top Sites

9. sep. 2011
Alt regnet har gjort kornbøndene i området temmelig fortvila, og det har påvirket oss andre mye også. Alpakkaene har sett konstant våte ut, selv om vi vet det ikke på noen måte er til skinnet. Når det regner som verst ser vi criaene ligge tett inntil mammaene sine og lukke øynene. Trygt og godt.
Men nå er det sol!
For de som har fulgt med i bloggen vår har vi hatt visse problemer med at Peach ikke har økt i vekt like mye som vi ønsker. Hun ligger fortsatt langt unna de andre i størrelse, men nå er hun på jevn vei oppover. Hun har blitt fóret for hånd i en periode for å få henne over en kneik, og nå beiter hun sammen med de andre criaene. De har alle nettopp begynt med dette, selv om melka til mor fortsatt er svært viktig. Man har alltid dette tidspunktet å se fram til om man må håndfore ungene. Tidspunktet når de får næring fra beite gir de flere muligheter og deg mer frihet.
Flere av jentene i denne gruppen er til salgs!:
Karantenejentene og -gutta får stadig mer tillit til oss. Jentene forlater ikke rommet når vi gjør rent lenger, og gutta står stille og klager ikke når vi sjekker de. Selv om vi ikke trenger å sjekke de så ofte som vi gjør, er det viktig for tillitoppbygging, og vi har allerede begynt å forberede de på grime med visse håndbevegelser. Spesielt Sunrise Blue viser gode takter.
Mattilsynet har vært hos oss flere ganger nå i starten av karantenen. Ingenting negativt, men de har bl.a. måttet ta avføringsprøvene helt på nytt da en eller annen rotet det til på laboratoriet. Testresultatene har vært negative (dvs positive for oss!) hele veien. Vi hadde blitt svært overrasket ellers. De kommer fra et område uten sykdommene man er spesielt redde for, og de ble testet i en måned nord i Chile før de ble flyttet til en måneds karantene og mer testing sør i Chile før avreise. Underveis har veterinærer kontrollert de. 
Vi vet flere venter litt på historien om turen til Chile. Den kommer! Bare litt forsinket pga sykdom og annet. I mellomtiden har vi lastet opp en kommentert bildeserie på våre Facebook-sider som mange har funnet interessant. Ta gjerne en titt og fortell oss hva dere synes!
Chile 2010, et album på Facebook
Høsten er definitivt her, og det blir kjøligere. Ikke langt herfra har det allerede vært frostnetter og bjørkene er gule hos oss. Alpakkaene ser ut til å synes det er helt greit da det betyr mindre insekter. 
Dersom flere vil selge hundegensere for oss er det bare å si ifra! De lages på bestilling så det er noe leveringstid, så det er lurt å ikke vente til siste liten. Ha en fin dag!
Finally some sun for the alpacas
All the rain have made the farmers in our area pretty saddened, and it have influenced us as well. The alpacas have looked constantly wet, even though we know they are by no means wet to the skin. We can see the crias laying besides their moms and close their eyes when it rains. Nice and safe.
But we have sun now!
Those that have followed our blog know about our slight problems with our Peach, she haven't increased her weight by as much as we would wish. She is still behind the others in size, but on a steady path. We have hand fed her for a little while to get her above certain levels, and she is now grazing with the other crias. They have all just started doing this, even though the mothers milk is still important. You always have this time in their development to look forward to if you have to hand feed them. The time when they get nurishment from grazing gives them more opportunities and gives you more freedom.
The boys and girls in quarantine trusts us more and more. The girls won't leave the room when we clean, and the boys stands still with no complaints when we check them. Even if we don't need to check them as often as we do it is important for building trust, and we have already started preparing them for the halter, by doing certain hand movements. Sunrise Blue, especially, shows he "gets it".
The Food Safety Authority (FSA) that governs the quarantine and do all required testing have been to our quarantine a few times. Nothing negative, but among other things they had to run the fecal sampling again after someone in the lab screwed up with the first samples. The test results have been negative all around (positive for us!). We would be surprised if not. They come from an area without the diseases the FSA are most afraid of, and they were tested for a month in the north of Chile before more testing again in the quarantine in the south of Chile before leaving for Europe. They were checked by vets at several points underway from Santiago.
We know many awaits our story from the trip to Chile. It will be published soon! Just a few delays because of illness and other things. In the meantime we have uploaded a series of photos to our Facebook pages. Many have enjoyed that, so please take a look yourself and tell us what you think!
The autumn is definetely here, and it gets cooler. Not long from here they have already had nights with frost and the birches are yellow at our place.
If more wants to sell our dog sweaters just let us know! They are made on order so it takes some time to deliver. Make sure you don't wait too long. Have a great day!
Alpakkabutikken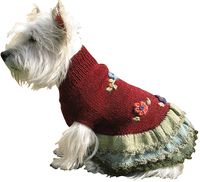 Besøk
alpakkabutikken vår
med klær til mennesker og dyr!

About Me
Knapper Alpakka

Kona og jeg har startet et bedre liv sammen, og alpakkaoppdrett er en stor del av det på dette fine småbruket vi har kjøpt!
My wife and I have started a better life, and alpaca breeding is a big part of it here at our small country farm.
Vis hele profilen min